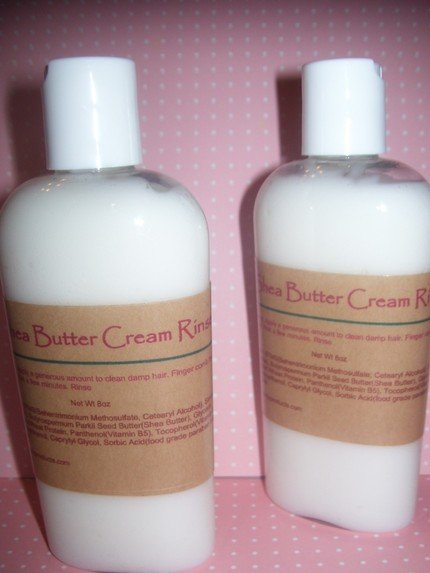 I stumbled upon this GREAT company one night while looking around Etsy at all the yummy bath and body products (yes, I love them just as much as hair products...you should see my bathroom). While looking around the owner/creator's Etsy shop (Selective.etsy.com ) I noticed that she has hair products. I immediately noticed the Shea Butter Cream Rinse and wanted to try it, but I talked myself out of it. That was until someone posted about a sale that was occuring on her main
website
. I couldn't resist the sale and I caved and brought THREE bottles!
PRODUCT DETAILS
: This thick cream produces sleek hair with improved shine, bounce, and body. Our conditioner glides on easily and rinses clean. A Fabulous product that is natural, effective, and affordable.
INGREDIENTS:
Aloe Extract, BTMS(Behentrimonium Methosulfate, Cetearyl Alcohol, Jojoba Oil, Shea Butter, Glycerin, Quaternium-79 Hydrolyzed Wheat Protein, Panthenol, Vitamin E, Allantoin, Phenoxyethanol, Caprylyl Glycol, Sorbic Acid(food grade paraben free preservative),essential oils
Aloe Extract will make wet / dry combing easier, and adds a protective coating to the cuticle.
Jojoba oil adds light conditioning benefits without weighing hair down. Because its makeup is so similar to the natural sebum in skin and hair, it makes an excellent emollient.
Shea Butter adds its host of natural moisturizing benefits.
Cetearyl Alcohol provides extra slip, viscosity, and conditioning for ease in styling
Glycerin acts as the humectant, while Wheat Protein strengthens and improves hair's moisture content.
Panthenol penetrates the cortex, improving shine, strength, and preventing split ends.
Allantoin prevents further damage to the cuticle.
COST:
8oz container is $10
4oz container is $5
Currently there is a 20% promotion coupon on the home page of the website, code is hairluv

MY REVIEW: The consistency of this product reminds me a LOT of Oyin honey Hemp Conditioner. It's not thick, but it provides LOTS of moisture just like the Honey Hemp does. Actually, the performance reminds me of honey hemp as well!!! The website states that it is a rinse out conditioner, but I havn't tried it that way. I used it as a cowash conditioner and a leave in. As a cowash, it cleaned my hair and prepped it for my heavier rinse out conditioner. I think for relaxed hair, texturized hair, and finer haired natural ladies, it would make an excellent rinse out conditioner. For thicker/coarser headed ladies like myself, its a reat cowash.

As a leave in, I love this product HANDS DOWN!!!! It's got good slip, provides LOTS of moisture, mixes well with other products without the white glob thing (here's a post I wrote on that) and it sinks into the hair and dries with out a waxy, producty feel.

If you are like me, and LOVE the performance of Oyin Honey Hemp, but can't STAND the frangrance (what the hell is that supposed to smell like? I've never smelled honey that fruity", then this is a product that you should check out.

I give it a soild 5 stars and will repurchase when my current stash runs out!
Related Posts :
Websites that I Recommend
Who is Nappy.Curly.Crown?
I've been natural for 23 of my 29 years on this earth and for the past 5 years consecutively. In those past 5 years, natural hair care has become a hobby and passion of mine. I created this space to help decipher the massive amounts of information about natural hair care, specifically the science of natural hair care. I'm a scientist by trade andprofession and my hope is to make this spot the go to location for information on how to get and keep your natural hair healthy.